The new Members Area is up and running! 
I have spent the last two months building a new members area. It was definitely long overdue!
For those of you who don't know, my site just turned a year old Last month. This has really been quite the journey and I would have never guessed that So that's how you do that! would be this far along.
I am a flooring installer, not a web designer or a coder(a person who writes code that is needed to build web sites and pages). So doing this all by myself has been a lot of late nights and a lot of TEARS!
Anyway, enough of that, I really want to tell you about what's new in the members area!

What's so good about it?
I re organized everything so it's easy to access and even easier to find.
 You can get to all of the videos and guides from many convenient places.
All the tabs in the main menu break everything down into the proper categories. I have separated everything into 3 main categories –
Custom Shower
Tub Surround
Floor Tile

I also put in Drop Down Menus for quick access to the videos and guides that you will need.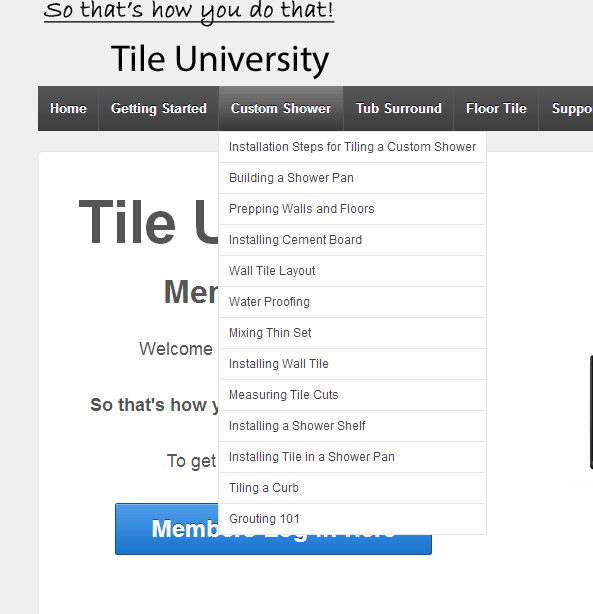 Here is another view of  the drop down menu.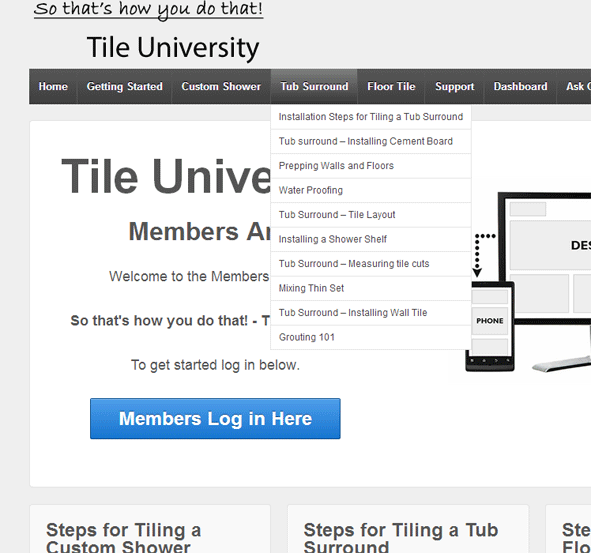 Dashboard-
I also changed the layout of the Dashboard, which is the Center Hub for your members area-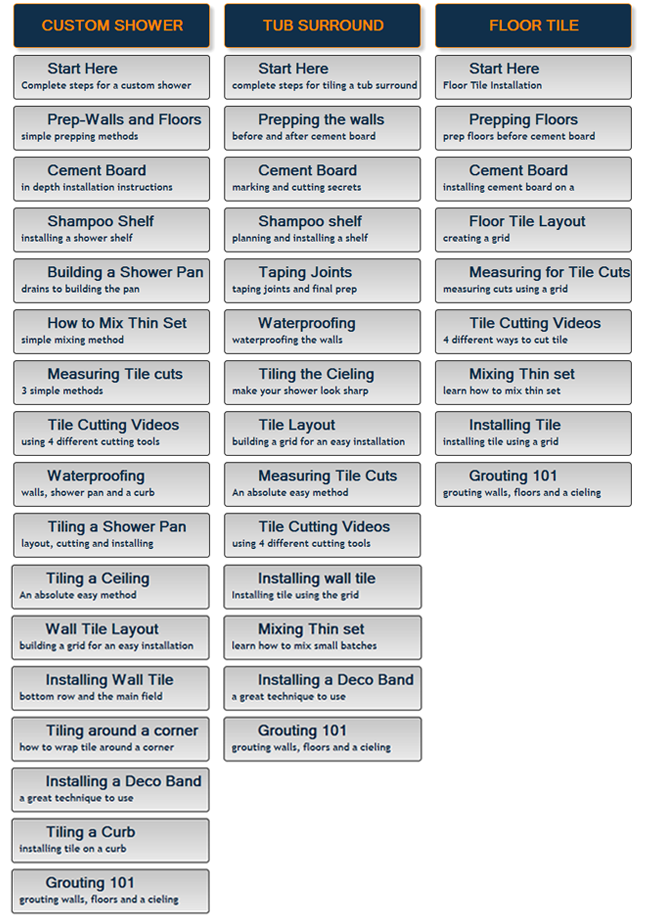 <
The dashboard page is easy to get to from the main menu at the top of any page.
This is where you can access everything in one convenient place. It's also nice because you can see everything that is available to you.  Just click on the tab that you need to access and you will be brought to that guide and all the videos for that guide will be right there for you.
I also put a Table of Contents at the top of page on all the guides. By doing this you can quickly click on the video that you are looking for and it will bring you to the proper place on that page.
I think that this another great feature that you will like!
One more quick note-

When you are using the dashboard or the main menu at the top of the page and you want to open a new item in a new separate page without closing the page you are currently on –

Right click on the tab or link and a menu 

will ask you if you want to (open this link in a new tab)

Click on that option and you will then have two tabs open(the you were on and the one you just opened)
Most of my links open in a new tab but some will not let me use that option!
Table of contents-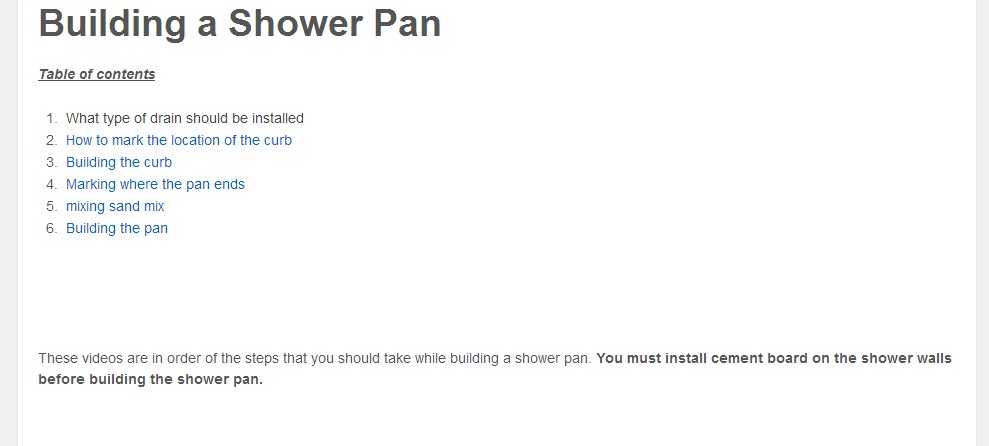 The Home Page-
This is where you will log in. You will see a big button that you will push to to get to the login page.
It also has 3 big tabs that you can click on to get to main content of what you are looking for.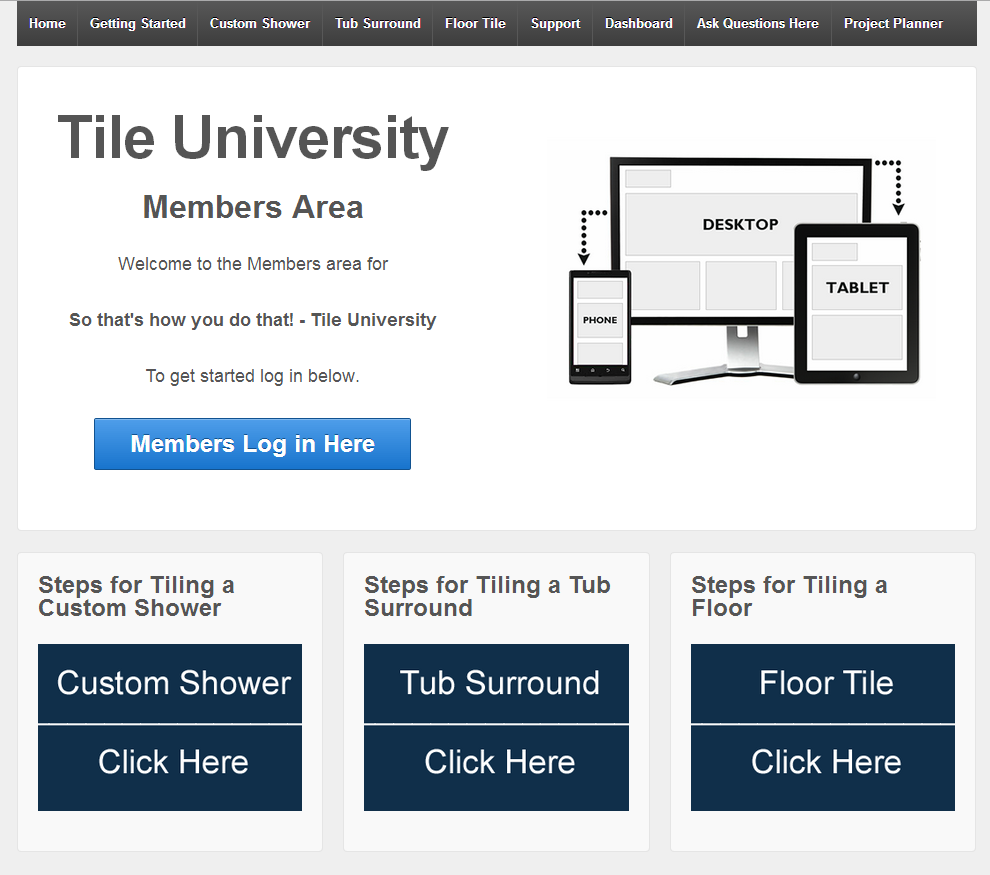 Getting Started Page-
I have also added a Getting Started page. This is a great place to go when you are new to the members area. It explains how to get the most from your membership and the site.
I also have some links on that page that will give you access to some Important Resources that you will be using during your Tile Installation Project.
This is also where you can get access to the PRIVATE facebook group that is for members only!
This is really important, because it is going to be your direct outlet to getting in touch with me quickly. This is where I will answer your questions FAST!
It is also a great outlet for you to interact directly with the other members. You can help each other and share progress about your projects. You can even post some pictures!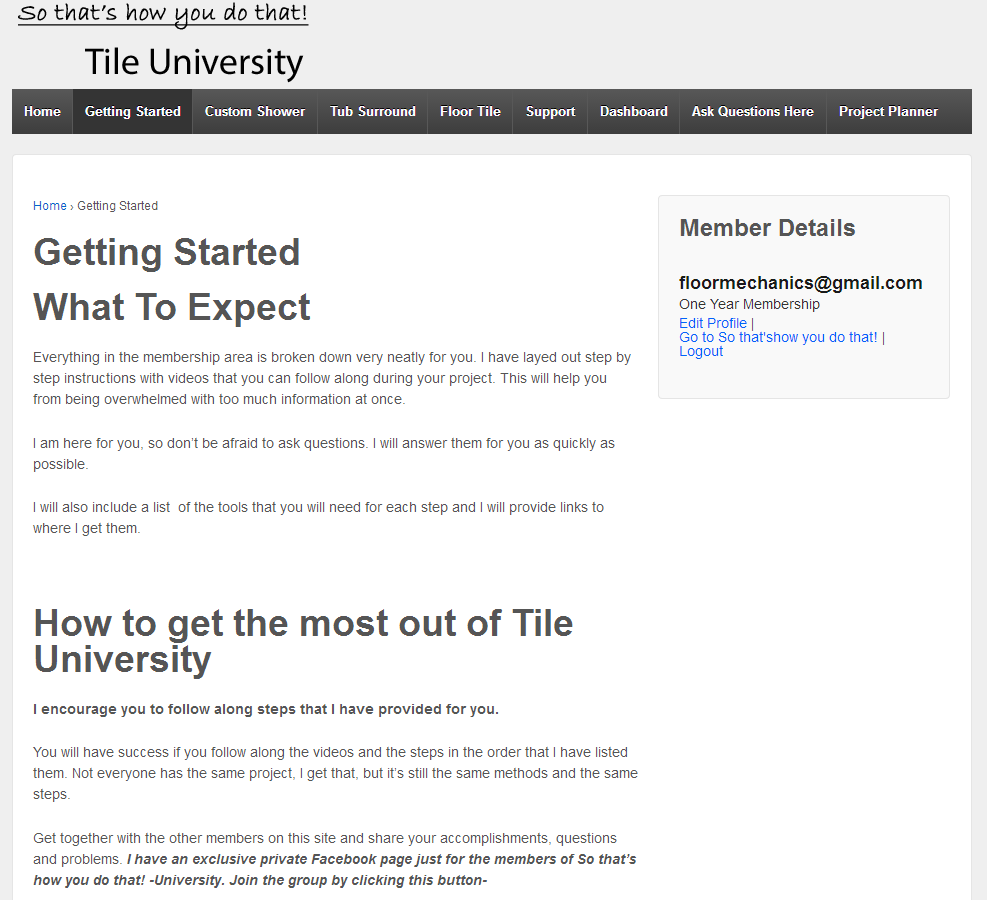 I have also put together Step by Step Guides for  –
Custom Shower

Tub Surround
Floor Tile
These are the guides that say Start Here.
I have outlined all the steps. As you work your way through the steps there are  links to the videos and guides that go with each step.
This was designed so you could work off the same page and just go right down the steps without having to navigate around the site!
There really is a lot more and I will let you go check it out for yourself! Remember I am always there for you, so please ask if you need anything.
If you are new to – So that's how you do that!
and you would like to sign up for a membership or
just get further information –