3 Great Tools for Cutting Porcelain Tile
There are several ways to cut porcelain tile. I will show you how to cut porcelain tile using a tile nipper, angle grinder and a tile cutter.
These three different cutting methods are a little less known to the DIY'er. I personally use these methods the most for a few reasons
they are faster
more convenient
these tools are less expensive(compared to a tile saw)
I am leaving out the tile saw in this post. I do however, plan on following up on this in my next post. So be sure to check that out by (clicking here).
In this post I will also have some video that will show you how to cut porcelain tile. These videos will give you some great tips on how I use each of them.
How to cut porcelain tile- using a tile nipper
I use a tile nipper a lot. These are great to use when a small piece needs to be cut off of a tile. I first score the tile with my tile cutter. Than I use the tile nipper to break the small piece off.
There are also times that a piece didn't break off all the way when snapping it with the tile cutter. When this happens I also use the tile nipper to break the rest off.
I have been installing for many years now and I have tried many tile nippers. I have to tell you, here are the best ones. 
Kobalt Tile Nippers from Lowes
You can pick this up at Lowes for about $20.
How to cut porcelain tile-Using an Angle Grinder
Now let's move on to another very important tool to add to your arsenal. This would be the angle grinder.
This is going to be a tool that you would use to cut multiple types of cuts-
circles(such as around the toilet flange)
L cuts
straight cuts
square cuts(outlets, vents, pipes and ect..)
any cut really
I use this tool a lot!
This is also a reasonable priced tool. You can find a decent angle grinder for around $30 but  this is the one I use-DEWALT D28110 4-1/2-Inch Small Angle Grinder
The blade that I use is made by DeWalt and cost is around $30. Here is a link for you to see what it looks like –DEWALT DW4765 4-1/2-Inch by .060-Inch Porclean Tile Blade Wet/Dry

Here is another video to show how to cut porcelain tile with an angle grinder.
How to Cut Porcelain Tile-Using a Tile Cutter
All three of the tools that I am discussing are great tools, but by far this is my favorite one.
The reason is, because it is FAST. It really saves a lot of time using this cutter. It is also very accurate and it's easy to adjust to many types of cuts.
I use a ( Rubi TR 600) which is a great cutter. It cuts tile big and small and up to a 17 x 17 tile on a diagonal.
Here is what it looks like – Rubi TR-600S Ceramic Tile Cutter
I am not trying to sell you a cutter I am just telling you what works for me. 
I was walking through Home Depot the other day and I seen they sell Rubi Tile cutters now. This is new to them and a wise choice.
I recommend Rubi because they are easy to use and they work great. I know it will seem to be a little expensive to buy this, but I would not buy any other brand.
Many of the tile cutters that the home improvement stores sell, are just not very good.
My advice is not to buy a tile cutter if you do not want to spend the money. Rent a tile saw!  Check out my post How to Cut Porcelain Tile using a Wet Saw before you buy a tile cutter.
What You Need to Know About Cutting Wheels
There are several types of cutting wheels to choose from. I use an 18mm and a 22mm for porcelain tile.
Here is a link to what I use –
Rubi 5 pcs Wheel Kit TS/TR Tile Cutter (6mm, 8mm, 10mm, 18mm, 22mm)
Tips- How to cut porcelain tile using a Tile Cutter
Practice, practice and more practice! Buy a few extra tile to practice cutting. If the tile you bought is expensive, than buy a few tiles that are on sale and practice with those.
The goal is to get the hang of it.
You need to press down firmly but don't overdue it. Let the cutter do the work. The key to this is an even score and the result will be a clean cut.
Other Tools You Need
There are many tools that you need to install tile. There are also a lot of tools you don't need!
For a complete list of tools, supplies and materials and where to get them-
Check out-
(My Project Planner-Tile Edition)
If you found these videos helpful I have over 75 more videos in Tile University that will definitely help with your installation!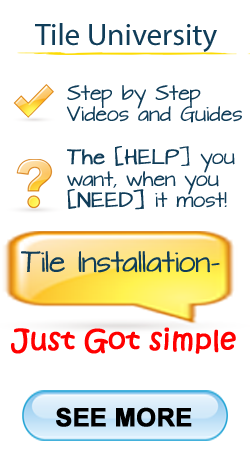 Please leave a comment below.
Thanks,
Joe
Jesus is King of all men!