Laminate University
Where you will find the step by step videos you need to get the job done!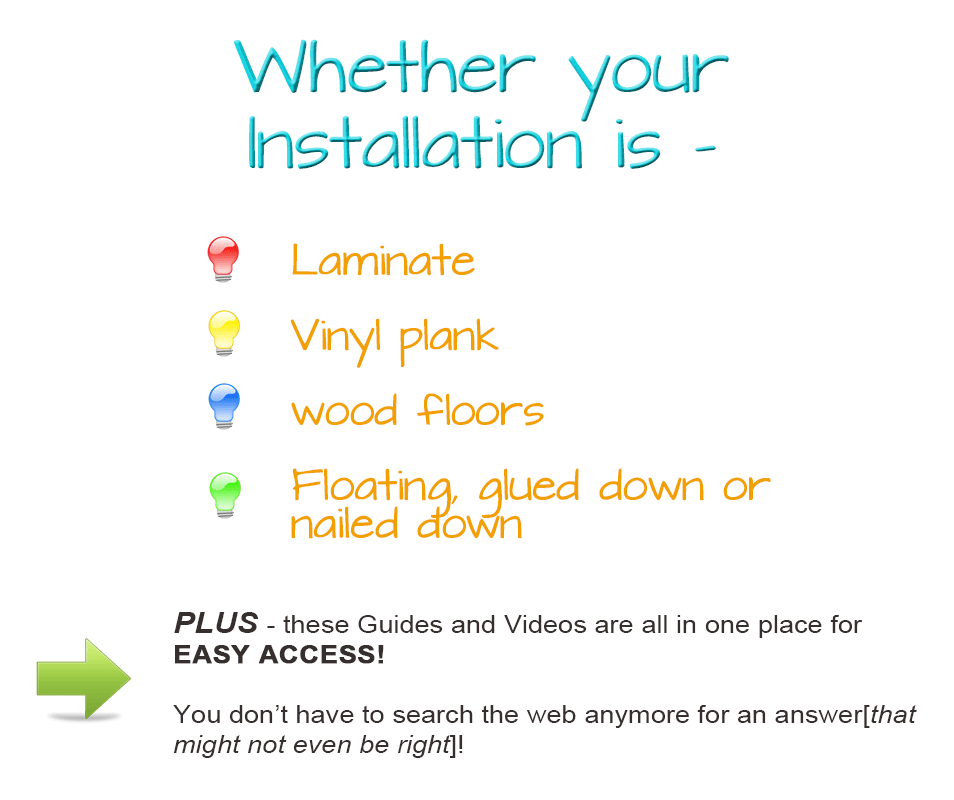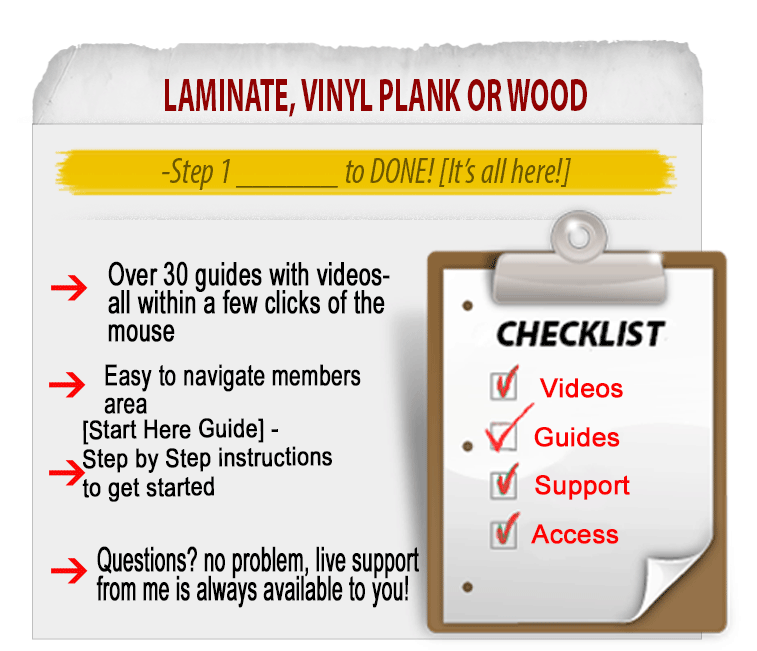 Here is what you will find inside Laminate University
you will have access to all of these once you get started
Where to start
DON'T JUST START WITH A FULL PLANK!
There is planning involved if you want to have a successful plank installation.
I will give you those steps for you to follow.
 Following these steps will not only help you have an easier installation, it will also give you the best looking end result.
Installing the first few rows
Once you figure out where to start, the next step is pretty obvious, install the first few rows. 
I will share with you where these first rows will go and how to get them started.
The first few rows can be a challenge to get together and then into their proper position. 
This step is the key to your entire installation 
and if done correctly you can expect smooth sailing from there. 
Installing planks in doorways
The most difficult areas to install laminate or vinyl plank is in a doorway.
Doorways that go into closets, bedrooms, stairways, exterior doors and ect…. 
They don't have to be difficult!
I will show you a few quick tips that I use to help make this an easy task!
Installing planks in a hallway
Hallways can be the biggest challenge in a Laminate or Vinyl Plank installation.
There are doors, closets, twists and turns and a lot of cutting involved.
I have suffered the tears of a hallway installation and you do not need too!!
I will show you how to do this the easiest way possible. I have developed a few methods that really simplify a hallway installation. I know this video will be a lifesaver for you!
Easy Measuring Guide for all plank cuts
I will show you how to easily measure  cuts that need to be made from row to row.
I will also show you how to mark and cut planks that go against walls, into door jambs, around corners around vents and more. 
All by using one quick and easy technique.
Installing into Multiple rooms AVOIDING TRANSITIONS
Most installations consist of multiple rooms 
I am sure that most would agree that it would be nice not to use transitions in those doorways.
This can be done!
and as a matter of fact, this is exactly how I do it on all of my installations and you can too. 
I will show you how to flow the plank into other rooms without using transitions.
If this is done correctly, you will never have an issue.
Transitions
I will share with you where transitions are needed and where they are not.
I will also show you the different types of transitions that are available to you and how to install them.
Sadly, most of the time a transition that is needed, needs to be modified some way or another. But the good news is, I am here to help with that! 
I share many tips with you on this subject and I will help walk you through it. 
Floor Prep
Most projects need some sort of floor prep done before you can install your plank. 
There are some projects that need just a little prep and some that need a major overhaul to the floor. 
That is okay! I got you covered here. I will share with you some great techniques and tips on how to get this done. 
I will also share with you the products you should use so you don't buy the garbage that is out there. 
I know that this can be overwhelming to anyone who has never done this before but, my video will definetly get you through this. 
Installing Plank in rooms with angles
A project with angled walls and cabinets can be enough to scare a DIY'er away from trying this on their own. 
DON'T LET THIS SCARE YOU!!
Relax, because I have just the video for you! I will walk you through many different situations that will apply to your situation. 
I will share with you some super easy methods to get you right past these angles. They are really not as tough as they would seem to be. 
There is so much more inside Laminate University-
cutting around vents
installing around islands
private Facebook Group
Knowledgeable Support
Installing in bathrooms
installing to stair railings
cutting doorjambs
tools I use
Lifetime Membership
Get Lifetime Access
Access to all my videos

Access to installation guide

Access to Private Facebook Group

 Support through Email and Facebook

lifetime Access
1 Year Membership
Get Access for 1 year
Access to all my videos

Access to installation guide

Access to Private Facebook Group

 Support through Email and Facebook

1 Year Access
I am really excited to begin working with you and to be a part of the project that you are working on.
As a DIY'er and a professional installer, it always feels really good when a project is complete!
I've always enjoyed to step back and look at what I have accomplished, I hope for you to have that same reward!!